Exploring the deep mysteries and infinite wonders of existence, through music, art and words…. celebrating this unfathomable, miraculous life.
Andrew Forrest Online Shop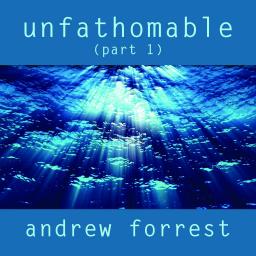 Unfathomable (Part 1)
Dear friends,
I hope this finds you all in good spirits.
This is to announce the release of my new single entitled 'Unfathomable (part 1)'.
Now available, for US$2, ON BANDCAMP.
Just click on the 'listen to samples' lozenge below, for the Bandcamp link.
It's been a crazy, traumatic ride for humanity in recent years.
I'm sure everyone has been profoundly affected by these tumultuous global dramas and unprecedented changes.
This new music reflects a sense of personal and collective unknowing, as we move into a very uncertain future.
Has there ever been a better time to find a place of inner calm, balance and harmony…the stillness in the eye of the hurricane, as it were?
'Unfathomable (part 1)' is an instrumental, ambient single….over 10 minutes long.
It starts and ends slowly in a quiet mood of mystery.
The overall musical intention is to create a sense of pervasive peace, expansiveness, and childlike wonder.
I hope you enjoy this latest offering.
Thank you everyone for your loyal and continued support.
And finally, if you can spread the word to any friends who may resonate with this music, that will be very much appreciated:)
May peace prevail on earth,
be well and stay safe,
Andrew

Updating...