Exploring the deep mysteries and infinite wonders of existence, through music, art and words…. celebrating this unfathomable, miraculous life.
Biography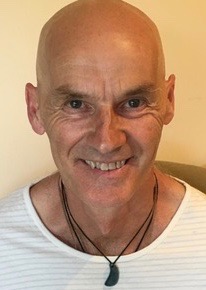 1958
Born in Cornwall, south west England.
1984

B.A (hons) Degree in Illustration, Kingston University, London.
Painting development
1984- '87

Illustrating book covers for various publishing houses in London…subjects ranging from philosophy, esoteric sciences, mysticism, religion, sci-fi and fantasy.

1987- '90

Moved to Glastonbury, and began painting inspirational, visionary paintings. Established international reputation for art. First published artcards, posters, limited edition prints etc.

1990

Moved to Dartmoor in S.W. England. Now painting large scale, epic landscapes and shamanic/underworld/archetypal dream imagery. Solo exhibitions in Los Angeles, Amsterdam, London and several other UK venues.

1998

Permanent move to south island, New Zealand. Paintings becoming exclusively abstract and increasingly formless (subtle textures and hues), from 2000 onwards.
Music origins and development
1991

Purchased first synthesiser/keyboard.

1992

Composed and recorded first music compositions, released on tape as "Octaves of Infinity".

1997

Recorded best selling CD "Starseed", which is used as accompanying soundtrack to filmmaker Jean- Luc- Bozzoli's esoteric animated film entitled "Merkabah, voyage of a Starseed". Starseed is Andrew's second volume (Sirius) in his 'Star System Trilogy'.

1998

Released second CD "Alpha-Omega", which is the third volume (Andromeda) in the 'Star System Trilogy'.

2002

Released "Alchemy"

2008

Major studio upgrade ('Alchemy Arts Studio') with Mac Pro computer running Logic software.

2009

Released "Infinite Octaves" CD, which although recorded last, completes the 'Star System Trilogy' as volume 1. (Please note that this is a completely new album, although one track 'Shallows of the Golden Shoreline' is an extended and sonically enhanced version of the same track on the 1992 "Octaves of Infinity" tape.)

2010

Released "Essence".

2011

Released "Resonance" CD which is volume 1 of the "Harmonics Trilogy".

2012

Released "Boundless" CD which is volume 2 of the "Harmonics Trilogy".

2013

Released "Presence" CD which is volume 3 of the "Harmonics Trilogy".

2013

Produced full-length soundtrack for Jean-Luc Bozzoli's animated film "Whales and Dragons".

2014

Re-released 1992 album "Octaves of Infinity" as digital download.

2015

Released "ONE", which is Volume 1 of the "Source Quartet".

2016

Released "Stillness Moving", which is Volume 2 of the "Source Quartet".

2016

Provided soundtrack for "Whale Hearts & Dragon Flight" guided meditation by Madeleine Walker, author of The Whale Whisperer.    
2018          Released "Freefall", which is Volume 3 of the "Source Quartet".