Exploring the deep mysteries and infinite wonders of existence, through music, art and words…. celebrating this unfathomable, miraculous life.
Andrew Forrest Online Shop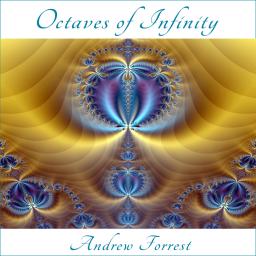 Octaves of Infinity
[1992]
NOW AVAILABLE: Re-release in digital format of Andrew's first album!
At last, Andrew's first music release from 1992 "Octaves of Infinity" is available once again, but this time as a highest quality download.
"This is an excellent album and a remarkable work considering it was his first foray into synthesised music. It is highly recommended if you are a lover of Andrew's output, or indeed of quality electronic music."
Lynn Gray, UK
'OCTAVES OF INFINITY' IS ONLY AVAILABLE AS A DIGITAL DOWNLOAD.
below.
Bandcamp: Click here to buy high quality lossless downloads and MP3 options (complete album or individual tracks).
You can buy high quality MP3 downloads from CDBaby by clicking on the "Buy Now" lozenge below the samples.

Updating...