Exploring the deep mysteries and infinite wonders of existence, through music, art and words…. celebrating this unfathomable, miraculous life.
Andrew Forrest Online Shop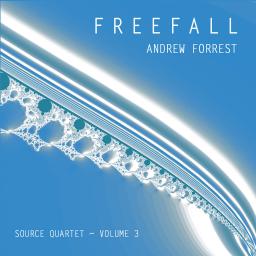 Freefall
[2018]
Source Quartet, Volume 3
Freefall is inspired by the exciting possibility of living life comfortably in unknowing. Where the mystery of life happily remains just that…an unsolvable mystery. It is a sonic celebration of the childlike wonder that arises in the freedom of not-knowing. When spontaneity, unpredictability, utter simplicity, and the seemingly 'everyday' becomes a constant, unfathomable miracle.
Typical sounds you will hear are: lush synth strings, grand piano, electric piano, overtone chanting, choirs and solo voices, flutes, chimes and bells, arpeggiated synth sequences, and countless multi-layered abstract textures.
I
Track Titles:
1. Freefall Into Mystery ~ Part 1 20.22
2. Freefall Into Mystery ~ Part 2 22:15
3. Freefall Into Mystery ~ Part 3 17:27
Total Length: 60:07
To buy Freefall as a physical CD, please click on "Add to Cart" below.
Bandcamp: Click here to buy high quality lossless downloads and MP3 options (complete album or individual tracks).
CDBaby: Click here to buy as a complete album download in best MP3 quality.

Updating...