Exploring the deep mysteries and infinite wonders of existence, through music, art and words…. celebrating this unfathomable, miraculous life.
Andrew Forrest Online Shop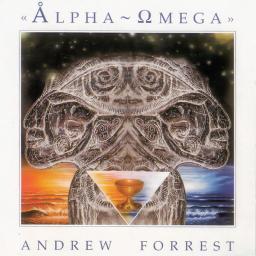 Alpha Omega
[1998]
Volume 3 (Andromeda) in the 'Star System Trilogy'
An epic, beautiful instrumental space journey, transporting us home to our galactic origins.  Constantly evolving, trance-ambient movements, vast abstract textures and profound sonic experiments make this a cosmic music experience that deepens with each listening.
"The sound he masterfully offers (in Alpha~Omega) is elegantly timeless, deliciously transporting, and certainly in an ecstatic category by itself. I joyfully recommend it!"
Ariel Spilsbury, Author of 'The Mayan Oracle: Return Path to the Stars', USA
To buy Alpha~Omega as a CD please click on "Add to Cart" below.
Bandcamp: Click here to buy high quality lossless downloads and MP3 options (complete album or individual tracks).

Updating...