Exploring the deep mysteries and infinite wonders of existence, through music, art and words…. celebrating this unfathomable, miraculous life.
Andrew Forrest Online Shop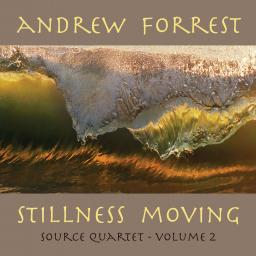 Stillness Moving
[2016]
Source Quartet, Volume 2
Welcome to Stillness Moving, the second volume of Andrew's "Source Quartet". This CD is a musical interpretation of the ultimate non-dual reality, where all movement is seen as an expression of stillness, and all manifestation is seen as an expression of emptiness.
The track titles are direct pointers to this existential paradox. The intention from my point of view as composer and performer, is to maximize the positive emotional impact and healing resonance of each piece of music.
It features the usual trademark sounds…the interweaving of classical melodic passages, with monumental deep space textures, shimmering arpeggiated sequences, and otherworldly sonic palettes, that take the listener on a transformational, profound, inner healing sound journey.
Typical sounds you will hear are: lush and subtle strings, electric pianos, flute, oboe, harp, syncopated bells, Tibetan bowls, chimes, Oriental overtone vocals, classical solo voices, choirs, arpeggiated synth sequences and swirling synth abstract textures.
Track Titles:
1. Emerge ~ 25:12
2. Enrapture ~ 20:30
3. Evanesce ~ 14:12
Total Length: 60:00
To buy Stillness Moving as a CD, please click on "Add to Cart" below.
Bandcamp: Click here to buy high quality lossless downloads and MP3 options (complete album or individual tracks).

Updating...